District 1199 Newsletter
February 25th - UNMH News Flash
UNMH News Flash
February 25, 2021
Safety First: According to the Occupational Health and Safety Administration (OSHA) hospitals are one of the highest risk work environments (https://www.osha.gov/hospitals).
The following are a small sampling of the daily risks we face:
· We work with high-risk chemicals, including cleaning solutions, radioactive materials, & medications.
· We work in areas that may have poor lighting, ventilation, or inadequate space for the task at hand.
· We perform risky activities on a daily basis such as manual lifting.
· We work with the general public in times of crisis.
· We work in areas of isolation and dense populations.
Our employer has a duty and responsibility to provide a safe work environment. They must identify risks and provide the education and resources to keep you safe. Not only is it the right thing to do, but it is required by our contract.
Our Union Contract has specific language providing for your safety and right to raise safety issues, concerns, and problems without fear of retaliation. Our Union believes the right for safety extends beyond our facility walls and extends to our parking lots. If you see or suspect an unsafe situation call us for guidance.
We want this to be the best and safest hospital, the one at which people want to work and do not want to leave.
Through your Union contract you can make this a reality.
March is Women's History Month
Please join us on March 7th from 2:00 to 3:30 pm to observe International Women's Day.
Dr. Amy Cohen will be our special guest. She is the Executive Director of EVERY.LAST.ONE She and other women of ELO have worked tirelessly to free children who have been and continue to be detained by US Immigration. For more information see the flyer below.
Register here for zoom link: https://forms.gle/XNzY1QMRaXkDUCnEA
---
25 de febrero, 2021
Avance Informativo
La seguridad primero: de acuerdo con la Administración de Salud y Seguridad Ocupacional (OSHA por sus siglas en inglés) los hospitales son uno de los medioambientes de más riesgo (https://www.osha.gov/hospitals).
Lo siguiente es una muestra pequeña de los riesgos cotidianos a los que nos enfrentamos:
· Nosotros trabajamos con químicos de alto riesgo, incluyendo soluciones de limpieza, materiales radioactivos y medicamentos..
· Nosotros trabajamos en áreas que tal vez tengan alumbrado y ventilación escasa o espacio inadecuado para la tarea presente..
· Nosotros desempeñamos actividades arriesgadas a base diaria, tal como levantar manualmente.
· Nosotros trabajamos con el público en general en tiempo de crisis.
· Nosotros trabajamos en áreas de aislamiento y de población densa.
Nuestro empleador tiene la obligación y responsabilidad de proveer un medioambiente de trabajo seguro. Ellos tienen que identificar los riesgos y proveer la educación y recursos para mantenerlo seguro/a. No solamente es hacer lo correcto, sino que es requerido por nuestro contrato.
Nuestro Contrato Sindical tiene lenguaje específico que provee para nuestra seguridad y el derecho de sacar a la luz cuestiones, preocupaciones y problemas de seguridad. Nuestro Sindicato cree que el derecho de seguridad se extiende más allá de las paredes de nuestras instalaciones y que se extiende a nuestros estacionamientos. Si usted ve o sospecha de una situación insegura, llámenos para guía.
Nosotros queremos que este sea el mejor y más seguro hospital, en el que las personas quieran trabajar y que no se quieran ir.
Mediate su contrato Sindical usted puede hacer ésto una realidad.
Marzo es el mes de la Historia de la Mujer
Por favor únase a nosotros el 7 de marzo de 2:00 a 3:30 pm para observar el Día Internacional de las Mujeres.
La Dra. Amy Cohen será nuestra invitada especial. Ella es la Directora Ejecutiva de EVERY.LAST.ONE (ELO por sus siglas en inglés). Ella y otras mujeres de ELO han trabajado incansablemente para liberar a los niños que han estado y continuado a ser detenidos por la inmigración de EU. Para más información vea el volante abajo.
registro por zoom: https://forms.gle/XNzY1QMRaXkDUCnEA
---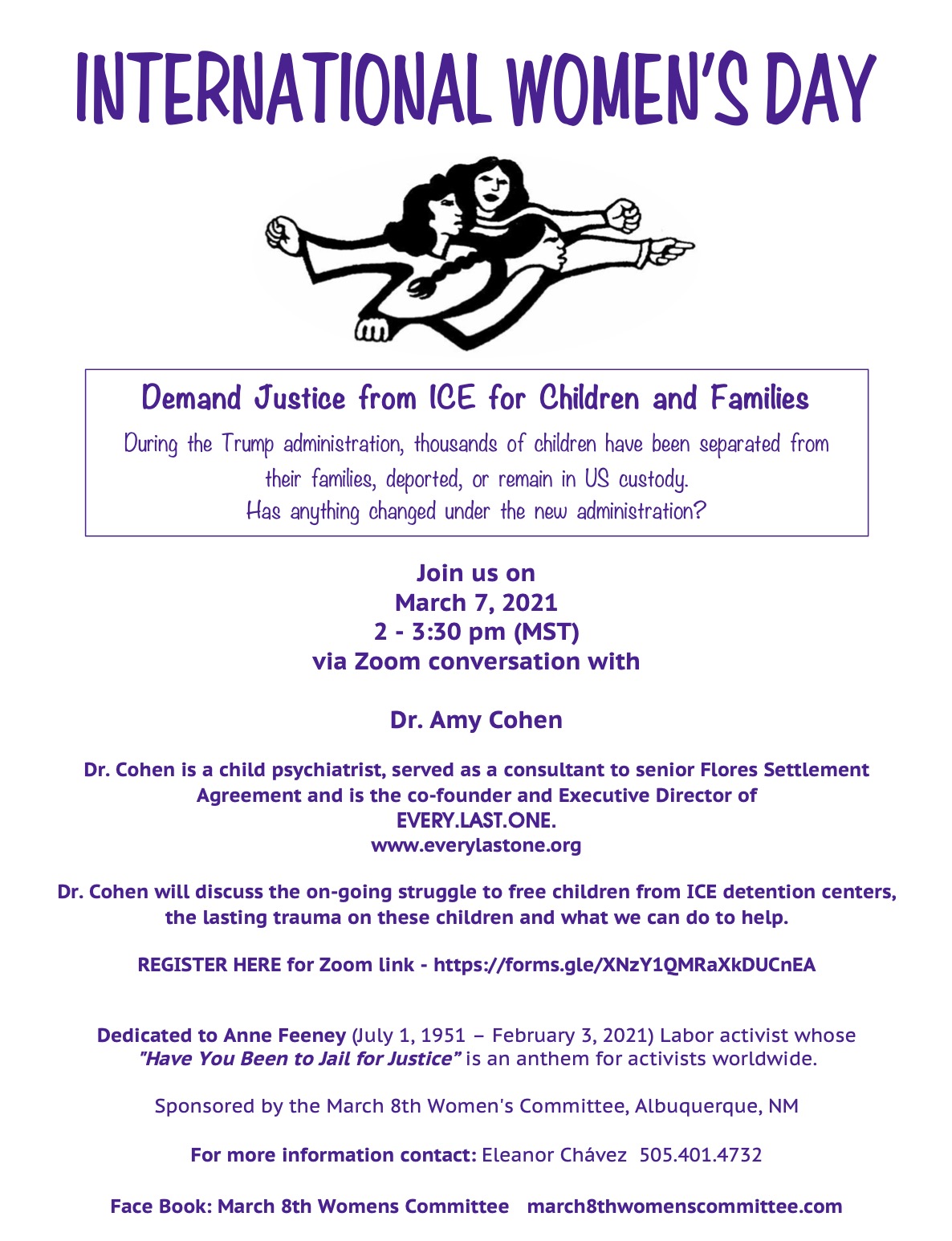 February 4, 2021 - UNMH News Flash
The Heath Security Planning and Design Act (HB 203) has been introduced at the State Legislature.  https://www.nmlegis.gov/Sessions/21%20Regular/bills/house/HB0203.pdf This legislation establishes a public process to start developing the many details of the Plan, based on the Framework presented in the 2019 Health Security Act.

January 28, 2021 - UNMH News Flash
A benefit of seniority: There are two types of seniority- hospital and department. Seniority is defined as the length of time an employee has been continuously employed. Do you know, the longer you are employed by the hospital determines how much vacation time you earn? The longer you are there, the more you earn. For your first year you earn 10 days of annual leave, prorated by your FTE.

District 1199NM University Hospital News Flash! January 20, 2021
Monday, January 18 was a day of remembrance for Martin Luther King, Jr.: Martin Luther King, Jr. was and remains a powerful force for positive and equality in our day to day lives. So much has been written about him, is common knowledge, and is readily available, but did you know that he was also influential in our very Union? Please follow the link to learn more: https://nuhhce.

NEWSFLASH! JANUARY 14, 2021
District 1199NM University Hospital News Flash! January 14, 2021 As frontline workers, we live the effects of COVID-19 every day. We are doing what we can to care for our communities, but it is time we call on our communities to rise to the challenge of the moment.

Page Last Updated: Feb 26, 2021 (14:03:36)