2022 Election Newsletter 7-22-22
CONGRATULATIONS TO ALL CANDIDATES FOR THE DISTRICT WIDE 2022 OFFICER ELECTION!
Everyone who ran for President of their hospital's chapter qualified except for two individuals. The candidates that qualified for those positions are uncontested, they will not need to be on the ballot. They are winners for getting the support in signatures from their respective chapters.
Chapter Presidents are:
AVRH- Must be appointed later.
CSV- Nurses- Nicole Holmes
Tech- Jennifer Roybal
Service & Maintenance- James Ortiz
HCH- All 3 units Must be appointed later.
LAMC- Must be appointed later.
UNM- L & T- 2 Presidents Gilberta Miera
Mike Mendez
UNM- Support Services- 2 Presidents Melissa Harrison
One Must be appointed later.
And for District Officers:
District Secretary- Uncontested Kim Crawford
District Treasurer- Uncontested Lillie Sandoval
ALL OFFICERS WILL BE INSTALLED AT THE DISTRICT DELEGATE ASSEMBLY SEPTEMBER 17, 2022.
Elections will be held by secret ballot which will be mailed on August 5, 2022. BALLOTS MUST BE POST-MARKED BY AUGUST 20, 2022. BALLOTS WILL BE COUNTED ON AUGUST 25, 2022.
Please look at The Sample Ballot for the candidates for District President and District Vice President.
2022 Election - District 1199NM Candidates Bio's
SHARON ARGENBRIGHT-
"Candidate has enjoyed a rewarding 45-year nursing career. To secure satisfying career opportunities for all healthcare workers; novices, those at mid-career and all future healthcare workers she seeks better working conditions. Securing Patient-Safe Staffing legislation is where she has been engaged for over 10 years."
MICHAEL MARTINEZ-
"I have been employed at Christus St. Vincent for over 7 years. I have been a delegate for 4 years representing my fellow Union members at labor management meetings and in contract negotiations. My goal is to grow/educate our members so that we are a more powerful Union. Please vote for me for District Vice-President."
JAMES ORTIZ-
"I have worked at Christus St. Vincent for 12 years. I am the President for the Service & Maintenance Chapter. As District President I want to increase our Union's strength by educating all our members about their Union. Together we can be a stronger Union. I would appreciate your vote as your next District President."
JENNIFER ROYBAL-
"Brothers and Sisters, I'm Jennifer Roybal your Vice President for District 1199NM and Chapter President of the Technical Units at Christus St. Vincent's where I'm employed. I'm asking you to vote for me as your new District President. I'll work hard for each and every one of us. Thank You."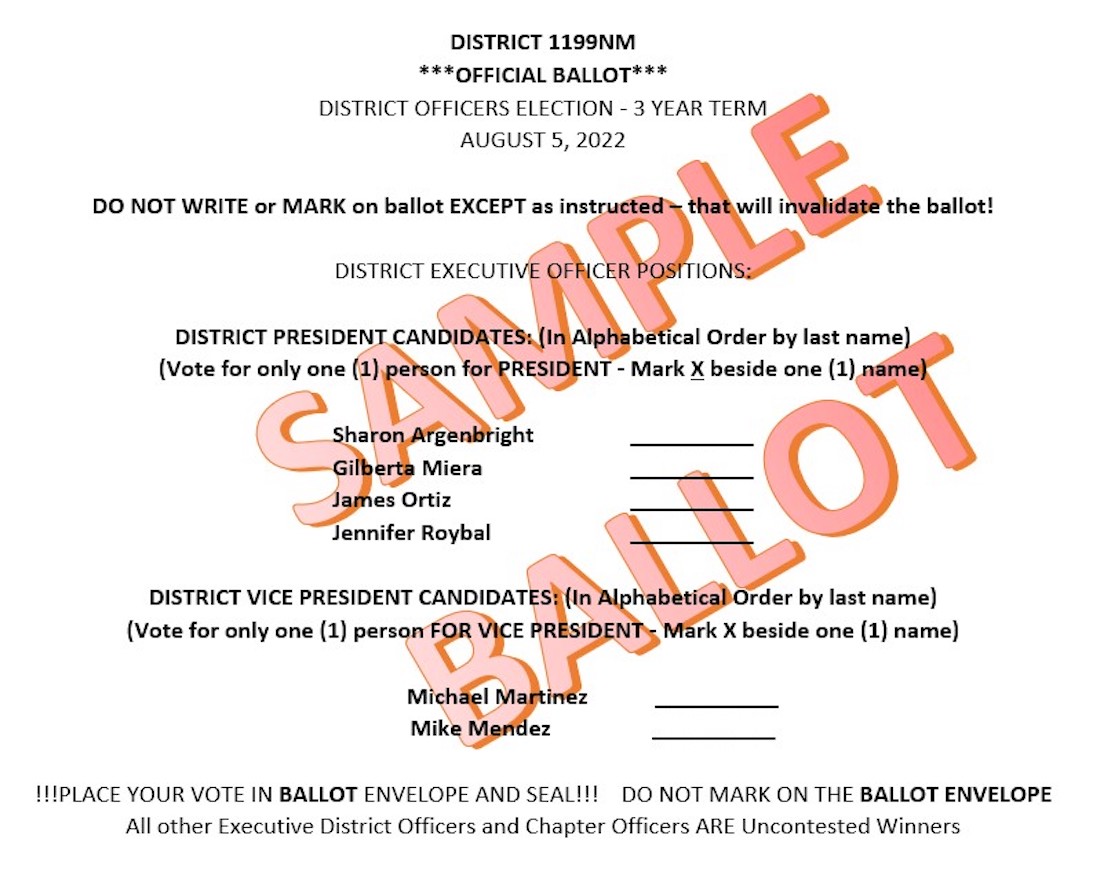 ---
Upcoming event:
Sisters and brothers,
Our annual District 1199NM Delegate Assembly will be held on September 16th and September 17th at the Marriott Hotel in Albuquerque. We will begin with dinner September 16 at 6:00 pm and the formal Delegate Assembly will begin on September 17 with breakfast at 8 am, followed by our formal assembly at 9:30 am.
New officers will be sworn in later in the afternoon.
We will be sending all of the hospitals in the District notice of our Delegate Assembly with a request to release you from work. Please speak with your supervisors and let them know that you will need the time off from work to attend the Delegate Assembly. We will send an agenda out as we get closer to September.
For delegates coming from out of town, please RSVP if you will need a hotel room. You may RSVP to Yolanda Ulmer at Yolanda@district1199nm.org