District 1199NM University Hospital News Flash! January 20, 2021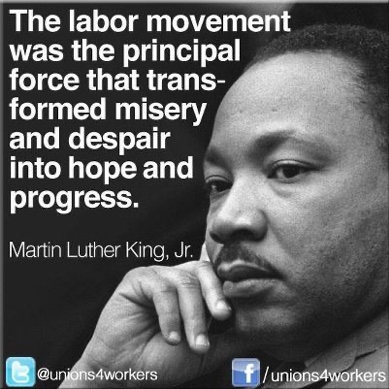 Monday, January 18 was a day of remembrance for Martin Luther King, Jr.: Martin Luther King, Jr. was and remains a powerful force for positive and equality in our day to day lives. So much has been written about him, is common knowledge, and is readily available, but did you know that he was also influential in our very Union? Please follow the link to learn more: https://nuhhce.org/our-union/nuhhce-history/
Workplace Rights: Our Union history is centered on helping workers earn living wages, better hours, and working conditions, and to build equity in our workplace. Our Union workforce is made up of member volunteers who donate their time for the betterment of all of us. After all, who knows your job better than you?
Over the years we have fought for the hard earned right to sit across the table from management as equals. There is always much to be done, but it is good, and satisfying work. Are you interested in learning more about being a delegate? Do you have a coworker that you think would be a great spokesperson for your department? Let us know! Please reach out if you'd like to learn more about becoming a delegate.
Discipline: Your Union contract provides for protections during disciplines. For example, discipline will be done in private and specific allegations will be provided. You have the right to Union representation; you must notify your supervisor and then call your delegate or the Union office. You may ask for the removal of disciplines from your file after 12 months. Journal entries and discipline over 12 months old will not be relied upon for future disciplines.
Additional benefits of Union membership: The American Federation of State, County, and Municipal Employees (AFSCME) is one of our parent Unions. Dues paying members have access to a variety of services & benefits - take a look
https://www.afscme.org/member-resources/afscme-advantage
ONLY UNION MEMBERS in New Mexico have a life insurance benefit of $4000 for accidental death/dismemberment. American Income Life Insurance offers this benefit at NO cost to the union member. IF you have not named a beneficiary, you may contact the office for a beneficiary form. When a beneficiary has not been named, AIL will send the benefit check to the estate of the union member.
You have the right to join (union card below) & participate in your Union. Non-Discrimination: The Hospital or its representative shall not interfere with, restrain, intimidate, coerce, discriminate against, or threaten employees in the exercise of their rights.
Have you seen the videos featuring our members from Taos, Santa Fe, and Albuquerque? Check them out on our Union website or on the District 1199NM NUHHCE YouTube channel. https://www.youtube.com/channel/UCL19MzN9v2AkVahXNnpVQ0g
Please share with your fellow union members, co-workers, family, and friends.
You can also follow District 1199NM on
Facebook District 1199 NM Hospital Workers' Union and on
Instagram District1199NM and
Twitter @District1199NM
RESOURCES:
Union Contract: Available on the Union Website: http://www.nmhospitalworkersunion.com/
Why Join your Union? http://www.nmhospitalworkersunion.com/?zone=/unionactive/view_page.cfm&page=Join20Us
Union Members may register at the website for even more resources, your contracts, Memorandums of Understanding and more! nmhospitalworkersunion.com
Have Questions? Want to get involved? Contact your Union representatives:
Gilberta Miera, District 1199 Union President L&T, gmie4@aol.com, 505-315-2223
Mike Mendez, District 1199 Union President L&T, jemez1722@yahoo.com, 505-203-4660
Martha Vargas, District 1199 Union President SS, marthavargas8282@hotmail.com, 505-220-2042
Alicia Hernandez, Hernandez061769@gmail.com, 505-604-8492
Rick Watts, rickwatts@juno.com, 505-803-6312
Kristin Redman, pulmonary1199@gmail.com, 510-666-7794
Maria Burke, mandr06@gmail.com 505-948-2043
Norma Bojorquez, normabojor@gmail.com, 505-681-3359
Robyn Blomberg, rkusiciel@gmail.com, 505-363-4953
Eleanor Chavez, Executive Director
eleanor@district1199nm.org
District 1199NM, NUHHCE
130 Alvarado Dr NE Suite 100
Albuquerque, NM 87108
505-884-7713
---
Lunes, 18 de enero fue un día de remembranza de Martin Luther King, Jr.: Martin Luther King, Jr. fue y sigue siendo una fuerza poderosa para lo positivo y la igualdad en nuestras vidas cotidianas. Tanto que se ha escrito acerca de él que es conocimiento común, y fácilmente disponible, ¿pero sabías que él también era influyente en nuestro propio Sindicato? Por favor sigue el enlace para aprender más: https://nuhhce.org/our-union/nuhhce-history/
Derechos laborales: La historia de nuestro Sindicato está centrada en ayudar a los trabajadores a ganar salarios dignos, mejores horas y condiciones laborales, y para construir equidad en nuestro lugar de trabajo. La fuerza laboral de nuestro Sindicato está compuesta de miembros voluntarios quienes donan su tiempo para el mejoramiento de todos nosotros. Después de todo, ¿quién conoce el trabajo de uno más que uno mismo?
A lo largo de los años hemos luchado por el derecho duramente ganado de sentarnos al otro lado de la mesa de la administración como iguales. Siempre hay mucho que hacer, pero es trabajo bueno y satisfactorio. ¿Está usted interesado/a en aprender más acerca de ser un delegado/a? ¿Hay un compañero/a de trabajo que usted piense que sería un gran portavoz para su departamento? ¡Déjenos saber! Por favor contáctese si quisiera aprender más acerca de convertirse en un delegado/a.
Disciplina: Su contrato sindical provee protecciones durante disciplinas. Por ejemplo, la disciplina se llevará a cabo en privado y se proveerán alegatos. Usted tiene el derecho a representación sindical; usted simplemente tiene que notificar a su supervisor y después llamar a su delegado/a o a la oficina sindical. Usted puede solicitar la remoción de sus disciplinas de su archivo después de 12 meses. Las entradas al diario y las disciplinas con más de 12 meses de viejas no se contarán para disciplinas futuras.
Beneficios adicionales de la membresía sindical: La Federación Americana de Empleados Estatales, del Condado y Municipales (AFSCME por sus siglas en inglés) es uno de nuestros Sindicatos matriz. Los miembros que pagan cuotas tienen acceso a servicios y beneficios – vea aquí: https://www.afscme.org/member-resources/afscme-advantage
SOLAMENTE LOS MIEMBROS SINDICALES en Nuevo México tienen un beneficio de seguro de vida de $4000 por muerte/desmembramiento accidental. American Income Life Insurance (AIL por sus siglas en inglés) ofrece este beneficio SIN costo al miembro sindical. SI usted no ha nombrado as un beneficiario/a, puede contactar a la oficina para un formulario de beneficiario. Cuando no se ha nombrado un beneficiario/a, AIL le enviará el cheque del beneficio a la propiedad del miembro sindical.
Usted tiene el derecho de unirse y participar en su Sindicato. Sin descriminación: el Hospital o su representante no deberá interferir con, restringir, intimidar, coaccionar, descriminar en contra o amenazar a empleados en el ejercicio de sus derechos.
¿Han visto los vídeos presentando a nuestros miembros de Taos, Santa Fe y Albuquerque? Échele un vistazo en nuestro sitio web del Sindicato o en el canal de YouTube del Distrito 1199M NUHHCE: https://www.youtube.com/channel/UCL19MzN9v2AkVahXNnpVQ0g
Facebook District 1199 NM Hospital Workers' Union and on
Instagram District1199NM and
Twitter @District1199NM
Por favor comparta con sus compañeros miembros sindicales.
RECURSOS:
Contrato Sindical: Disponible en el sitio web del Sindicato: http://www.nmhospitalworkersunion.com/
¿Por qué unirse a su Sindicato? http://www.nmhospitalworkersunion.com/?zone=/unionactive/view_page.cfm&page=Join20Us
¿Tiene preguntas? ¿Quiere involucrarse? Contacte a sus representantes sindicales.:
Gilberta Miera, District 1199 Union President L&T, gmie4@aol.com, 505-315-2223
Mike Mendez, District 1199 Union President L&T, jemez1722@yahoo.com, 505-203-4660
Martha Vargas, District 1199 Union President SS, marthavargas8282@hotmail.com, 505-220-2042
Alicia Hernandez, Hernandez061769@gmail.com, 505-604-8492
Rick Watts, rickwatts@juno.com, 505-803-6312
Kristin Redman, pulmonary1199@gmail.com, 510-666-7794
Maria Burke, mandr06@gmail.com 505-948-2043
Norma Bojorquez, normabojor@gmail.com, 505-681-3359
Robyn Blomberg, rkusiciel@gmail.com, 505-363-4953
Eleanor Chavez, Executive Director
eleanor@district1199nm.org
District 1199NM, NUHHCE
130 Alvarado Dr NE Suite 100
Albuquerque, NM 87108
505-884-7713