Announcing Jewish Voice for Peace ABQ Education Series
"Palestine and Israel: Rule of Law and Human Rights-Based Approach"
Education Series Presented by Jewish Voice for Peace-ABQ
May – July 2021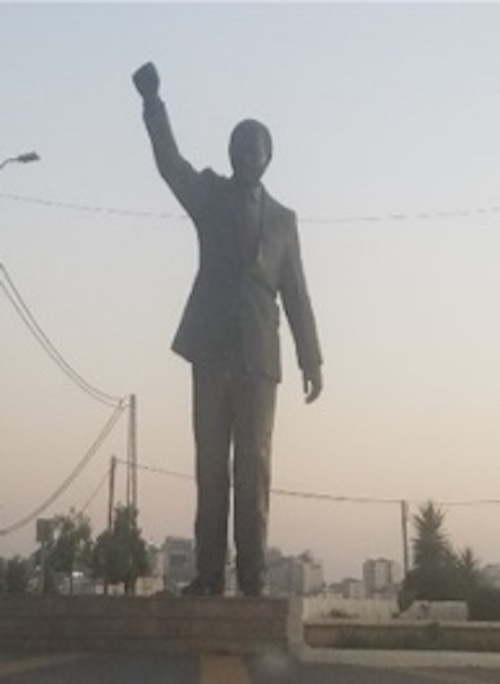 Nelson Mandela statue, Ramallah
Why does the Palestinian issue matter for Americans? What is the US role in the occupation?

What is a progressive and human rights approach to peace in Palestine and Israel?

Have Israeli land and settlement policy and actions undermined any two-state solution?

What is the difference between anti-Semitism, anti-Zionism and criticism of Israeli policy?
This online series of interactive webinars will provide an opportunity to dig deep into these questions. For too long, propaganda and skewed media coverage have covered up core and indisputable facts and confused many Americans about the real nature of the situation in West Asia/Middle East and the role of the United States. Learn the truth so we can act together to ensure the rights of all people in the region for justice, equality, and dignity.
Each session is 90 minutes long and features videos, engaging panels of diverse experts, and guided interactive discussions that will broaden participants' understanding and answer critical questions. The sessions will connect
NM communities working on faith-based, racial, environmental, indigenous, economic and social justice issues.
Part 1: Introduction to Myths and Reality of Israel/Palestine. May 27, 6:30 – 8:00 pm
Occupation of the American Mind: Film & Guided Discussion
This film helps us understand why we lack factual information about the Palestine/Israel conflict. "It's mandatory viewing for students who want to understand how powerful interests manipulate the news and politics in a "free" society. It will change the way they understand the world." - Robert McChesney, University of Illinois U/Champaign.
Register at this link:
https://us02web.zoom.us/meeting/register/tZwuc-qopj0qHdc1Ad0259HCBfOvSxQaCoXy
Part 2: Anti-Zionism Anti-Semitism Explained: Webinar and Guided Discussion. June 17, 6:30 – 8:00 pm. Foundation for Middle East Peace Webinar on Anti-Zionism and Antisemitism: Webinar & Guided Discussion.
This video and guided discussion examines how a problematic definition of antisemitism is being used to quash criticism of Israel and threaten freedom of speech while undermining work against dangerous white supremacy.
Register at this link:
https://us02web.zoom.us/meeting/register/tZYqcOGspzoiHtO_9p-7ZiQF56Z09X91cQDS
Part 3: Beyond the Two State Solution: Webinar and Guided Discussion. July 8, 6:30 – 8:00 pm
Jonathan Kuttab, Co-Founder, Nonviolence International, Palestinian/International human rights lawyer, and
Miko Peled, Israeli American, son of an Israeli General, leading advocate for Palestinian rights and Boycott, Divestment and Sanctions (BDS) will discuss a vision of a just peace for Palestine and Israel and BDS.
Register at this link:
https://us02web.zoom.us/meeting/register/tZApceGopzgsHtdB4YQqq5sC0Mz908alDE6N
Part 4: Palestinian Children under Israeli Military Detention: Video and National Speaker. July 29, 6:30 – 8:00 pm
Brad Parker, Defense for Children International, Senior Advisor, Policy and Advocacy, will discuss how Palestinian children in the occupied West Bank, like adults, face arrest, prosecution, and imprisonment under an Israeli military detention system that denies them basic rights as well as the new legislation in the US Congress co-sponsored by Congresswoman Betty McCollum calling for conditioning US Aid to Israel.
Register at this link:
https://us02web.zoom.us/meeting/register/tZcqdemvqD4rE9HjWdKUkNC1dtssREaLMt0x


The Separation/Apartheid Wall in Palestine/Israel
For more information contact: Katherine Hughes-Fraitekh, JVP-ABQ, kcelav@gmail.com